Music day for me again~
That day i woke up quite late, no choice to skip another gathering which is also from Low Yat forum... Sorry a Suiteng jie.. can't make it =/
So after my brunch, head to Peter's place.
Weeks before he already PM me that there is another
LYN Audiophile gathering
coming up.
And I wanted to go again cause I wanna test 2 of the cans that I can't decide which to get.
Like usual, messy pics :P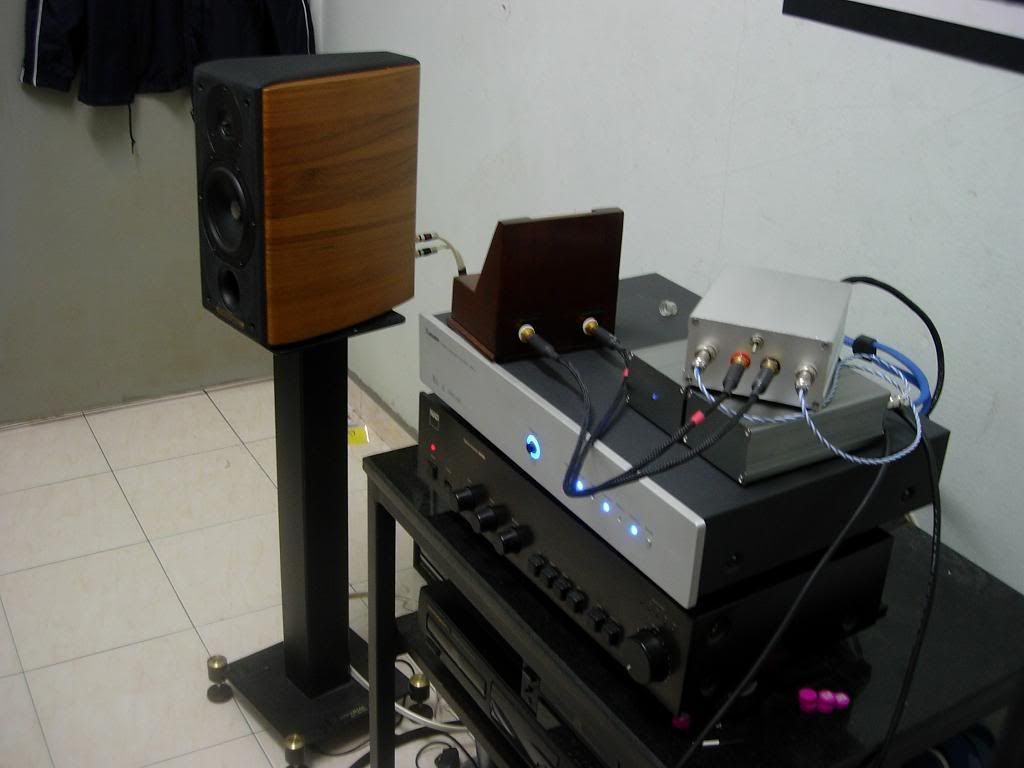 GEAR LIST :
Headphone / SPK
HD650
HD580
HD650(ultimate modded)
AKG701(recabled, modded, fine tuned)
DT990
DT880(600ohm)
MS1(recabled)
Darth Bayer
Sony SA5000
Pk2
IM716(Modded double)
IM716(Modded)
AT CK100
PK1
2X B&O A8
Sonus Faber Concertino Domus
Amp
Pico
Pcwork customised IEM amp
Ibasso D2(silver)
Ibasso D2(Green)
Ordance .22
Iqubes
The Secret
Ibasso D10 Cobra
Customised Fully Class A headphone amp and Pre-amp with dual PSU
NAD 3020A (Pre-amp Section bypassed, Power Amp Modded)
Source
6x Modded Ipod photo (Bypassed by PcWork)
2x 6Th Gen Ipod
1x 5th Gen Ipod
Sony Player S616
1x 3G Iphone
2x Zune
Xindak Dac 5 hybrid dac (2 x burr brown opamp 627 and 6922 telefunken tube)
Pinnacle Sound Bridge M1001

Interconnects
Extreme Stereo to RCA (pcworks version)
3.5mm Stereo-Stereo Silver cables
Van Den hul D102 MKIII RCA-RCA
QED Qunex 4S RCA-RCA
QED XT350 Speaker cable 3.0M pair
Crystal cables rca to mini,rca to rca (codename Valgrind, Affinity and Valhalla) Sep90
Exp4 MIT rca to rca cables (sep90)

Powercords
Blacksands Violet ZI, ZII , Silver Reference Max Power Mk4
Oyaide Tunami Gpx-R Limited Edition Beryllium Copper
Oyaide Tunami Gpx Limited Edition
Tweaks
Acoustic Revival QR-8 Crystal Magnets
4X Enacom AC Line Noise Eliminators
1 pair Enacom Speaker Noise Eliminators.
Soniccaps 4.7 euf x 2 (Green Box) portable version
Sonnicaps 8.3 euf with soniccaps platinum wooden idock
Audio Gear Rack with 0.8" marble platform
If you wonder why is there so many older generation iPod, hehe
cause those is Moded, and only that generation can be Moded to the extreme sound,
which the sound quality can on par with decent CD Player!
Am not joking about that, and 1 of the iPod is mine, still half way done modding :P
The Headphone that I can't decide which to get is this
Beyer Dynamic DT 990
Or
Sennheiser HD 650
And I got my answer :D
HD 650 it is!!!
saving up for that can, wont be getting soon, may b year end or next year :P
The gathering last kinda long, but I have to excuse myself to leave early.
Need to get ready for the MPO!!!
LOL
I invited Pinkporkchop there as she kinda like orchestra and been there couple of time.
At least invited someone that won't yawn during the orchestra play :P
Again, a big thanks to
Nuffnang
giving me this free invite :)
Is my 2nd visit right after the 1st visit just past Sunday ago (Previous post)
Me and PPC reach quite early
Cause I know have to be punctual after the bad experience on the 1st time =..=
I din have my dinner and din eat that time, thought only got half hour time...
Can't decide what to eat and didn't want to rush thing... Bad idea to go in MPO with stomach empty...
End up my stomach growling during the play...
Pamsong
and PPC heard it coz I just sit between them =..=
how embrassing =/
I was amaze the 1st time i enter the hall
the ceiling is amazing but that time no chance to snap any picture.
This time I did is secretly... the security actually not allow us to take any picture inside =/
I thought we heard "No photoshooting or video/voice recording
during the play
"
Why bother to announce that way... should tell us no photoshooting once enter the hall right?
I very satisfy with that night orchestra, may be they playing a better scroll compare to the previous week i went to, which i kinda yawn.
That night music is entertaining and so much fun with it :)
after the session end, most of us gather to have a group pics :)
The 5 dudes
Chris
, me,
Nicholas
,
Yee Hou
,
Jeffrey
PinkPorkChop
The late Zoe (her "partner" that coz her late)
After the groups photo
We went to old town to have our supper :D
and that's the end
now waiting for
Hennessy Artistry
~
I just got the mail!
Thanks Nuffnang again!!!