Last Wednesday I have a chance to watch This Is It premier! All thanks to Joshua and Nigel for the ticket!

This Is It
Michael Jackson This Is It Premiere Screening
Date: October 28, 2009 (Wednesday)
Time: 9.30PM
Venue: Cathay Cineplex, e@Curve (formerly known as Cineleisure)
Was really really glad I manage to watch such movie since I'm a big time MJ's fan!
and all of us here iz da fanz too~
ChrisTock, Joshua, Andrew and Yat
Jeffrey beside me, David, Hsu Jen and Nigel... eh where is Kel Li :p
Was waiting this "Movie" for quite some time
It's like watching the last performance of MJ... feel that he still around but actually not anymore.
And for some of us that adore him... we do have some teary wet eye when watching this movie.
Especially he sing the song "I'll be there"... I wet my eyes on that part T_T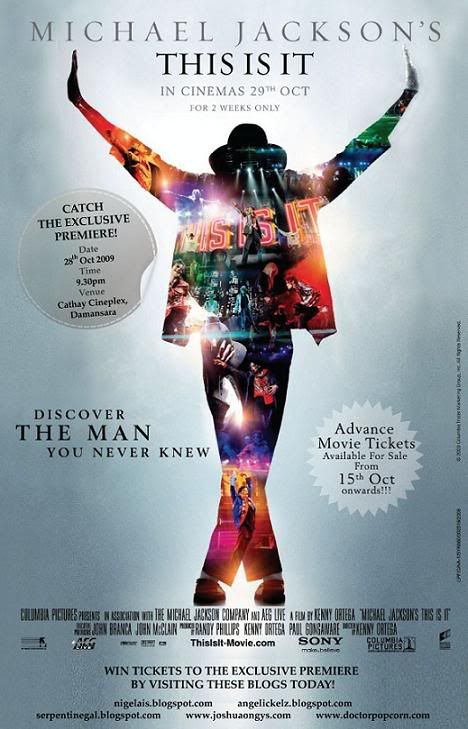 As you can see above poster, those blog link :D
I won mine at Joshua's blog :P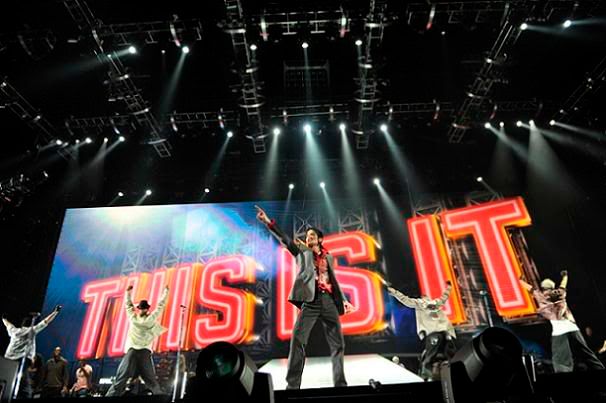 Go ahead and get the ticket for this show already
For us fans, no doubt it awesome.
If you not a fan, please do support the true late king of pop!
his might keep repeat the same dance move, but he the one that inspired all the awesome dancer this day!
You know what I mean if you watch British Got talent 2009, the winner is a group of dancer which they do have some MJ moves and song!
And a lot more famous artist songs and dance move still was inspired by him.
Was wanna give 4 out of 5 start for this movie,
but since I'm fans' of him, I'll gonna rate this show 5 stars :P
LOL
THIS IS IT!!!